Custom Dry Aged Refrigerators
We are a professional manufacturer of dry aged beef refrigerators, committed to providing the perfect dry aged refrigerators experience for our customers. Our refrigerators are designed to maintain a constant temperature and humidity, ensuring that your dry beef retains its optimal quality and flavor. The temperature range of our dry aging refrigerators is 1-25°C, with the best temperature range being 1-4°C, and the humidity control range is 60%-85% RH. The storage capacity of our refrigerator is up to 45kg, and it features an inverter/Jiaxipera compressor and a seamless SST/3-Layer door frame/glass with tempered light blue glass and double low-E.

Our products are manufactured using high-quality materials, ensuring their durability and reliability. We have obtained several relevant certifications, such as CE, RoHS, and REACH, which attest to the reliability and quality of our dry aged beef fridges . We have a professional and experienced team of engineers, designers, and technicians who are dedicated to ensuring the highest level of quality in our products.

As a professional manufacturer, we have a modern factory with advanced equipment and technology to meet the needs of our customers. We have strict quality control procedures in place to ensure that our products meet the highest standards of quality and performance. We also offer customization options for our ground beef fridges, including capacity, shelving, and finish, to meet the unique needs of our customers.

Choosing our dry-aged beef refrigerators can bring numerous benefits to your business. With our high-quality products and excellent customer service, you can increase your revenue, enhance your customer experience, and stand out in a competitive market. Contact us today to learn more about how our products can help your business grow.
Cooked beef has taken the world by storm and has become a top delicacy.

What is dry aging fridge?
The Dry Aging is a process in which selected parts of fresh beef are placed in a constant temperature and humidity and fan-controlled aging room after being drained of acid, using the enzymes of the beef itself and the microorganisms in the air to change the meat structure of the original beef through microfermentation and fat oxidation, which not only further enhances the microscopic degree of beef, but also gives it a rich cheese and nut flavor.
What is wet-aged?
Wet-aged, is through the vacuum compression bag, the amount of meat in the bag for maturation time than dry-aged to know, generally 14 or 21 days of wet-aged steak has very good results. The wet aging basically does not lose days of water, but also do not need to discard part of the meat, so it is more cost-effective, more efficient, and does not require a long wait!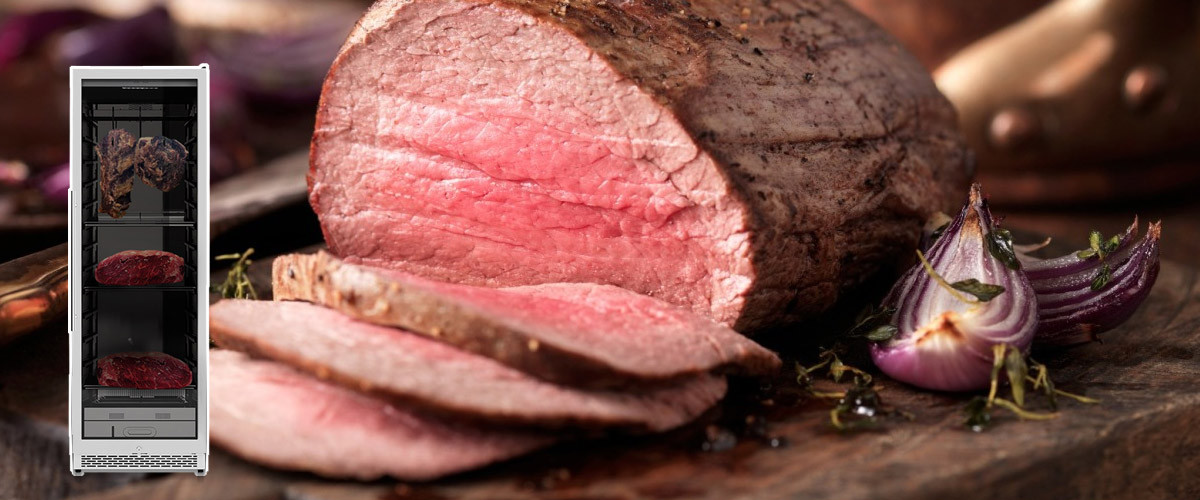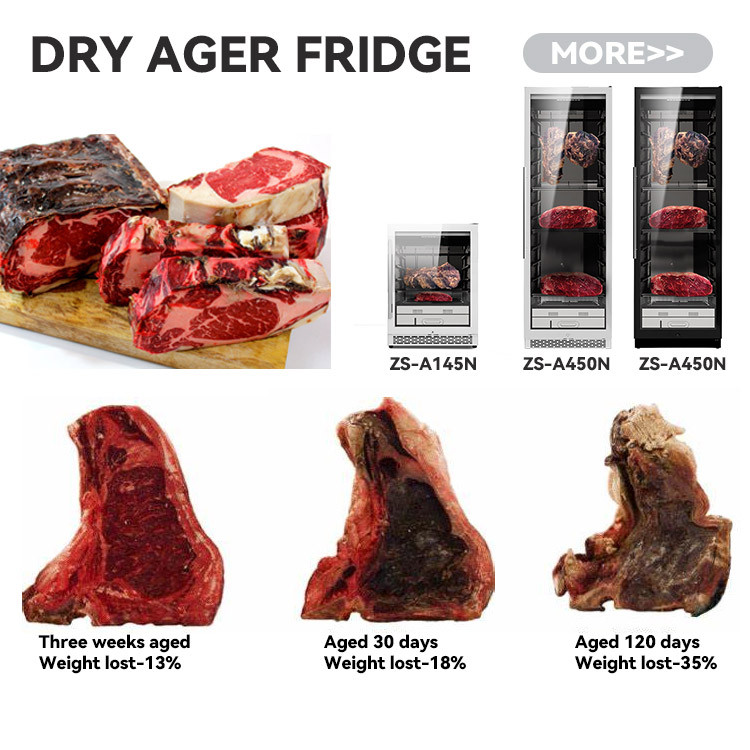 Attention!
Fresh beef should be drained of acid

The role of acid drainage, storage and preservation, to keep the meat soft and juicy, taste more delicious!
Stainless steel material
Dry steak refrigerator is made of stainless steel, enough to hold tens to hundreds of pounds (kg) of meat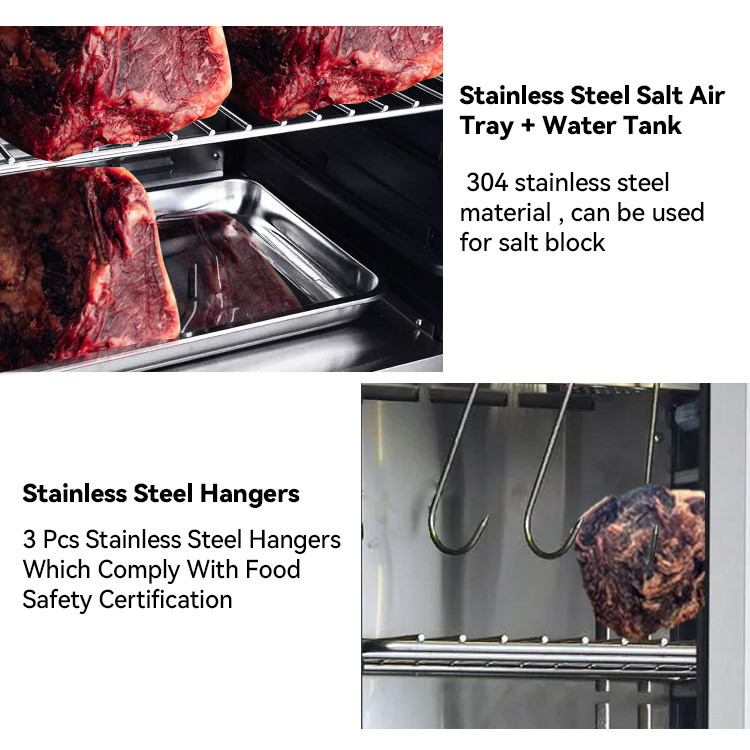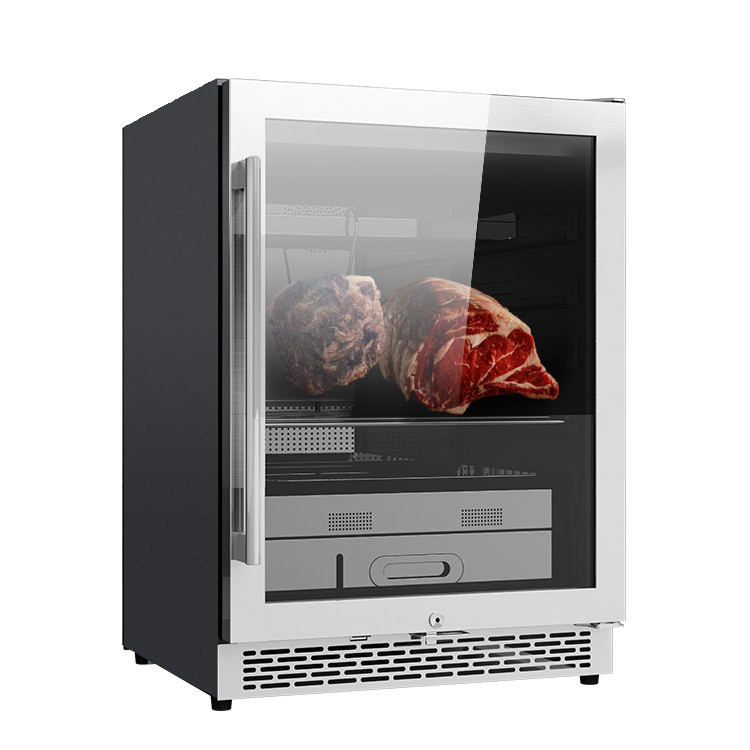 Three layers of anti-fog tempered glass door, anti-fog, locking cold, heat insulation, tempered safety
The use of brand-name compressors, stable performance, longer life, fast refrigeration system, energy saving and environmental protection, the inner liner - foam layer thickened insulation, constant temperature and humidity both, to further enhance the tenderness of beef, so that the meat to maintain a dense cheese and nut flavor.
Product design style: JOSOO Standard products / OEM/ODM
Whether you are a brand agent, retail wholesaler, or individual customizer, we offer a full range of wine cooler sourcing services. You are warmly welcome to write your requirements to us.